Text
The Avengers: Film Review
I was researching the other day that film reviews is getting more and more involved in the radio industry. So I thought I'd put my film studies skills into use and give a review of the most recent film I've seen. Enjoy.
THE AVENGERS: Joss Whedon
The way I am going to do this review is give you the storyline and then look at how the actors/actresses portray each of their roles. At the end I will provide my verdict of the film as a whole.
The storyline is simple. Loki (Tom Hiddleston) escapes the dimension he was trapped in (from the end of Thor) by using the power of the Tesseract and arriving on Earth. On arriving on Earth he steals the Tesseract to use it to create a portal from one world to another and transport an army to conquer Earth with him becoming king of the planet. The Avengers are brought together to stop Loki from doing this altogether. A simple story but effective in this film and it works. Now the story isn't what makes this film great. It's the way each actor takes their role and it comes out brilliantly.
Robert Downey Jr. (Tony Stark/Iron Man): We all now how well Robert Downey Jr. pulls off this role from the first two Iron Man films. I can't think of anyone better to play a billionaire egocentric genius so well. The story of Stark in this film is that he is not interested in the Avengers until it becomes personal. Then decides it's the best thing for Earth…and him. Once again his comic timing is to the point but doesn't have the best comic timing out of all the actors. Yet again Downey Jr. pulls off a great performance as Tony Stark.
Chris Evans (Steve Rogers/Captain America): Chris Evans plays this role brilliantly. To play a part that has no idea of the future that he is in is a stretch for actors but he does it with such ease. He doesn't understand certain references that pop up during the film from the other characters. He also doesn't know how to react to being so popular among some of the S.H.I.E.L.D agents (as he was the first superhero ever). Evans still keeps the focus of Captain America being a Captain. He takes orders, issues orders, knows the tactics of the battlefield and this is why and how he sort of becomes the leader of the Avengers. He still has that sort of soldier role to him because that's all he knows what to do. Very good performance from Chris Evans.
Mark Ruffalo (Bruce Banner/The Hulk): I was looking forward to Mark Ruffalo's performance as Bruce Banner AND Hulk. Yes he also plays Hulk. In the other two films they just did CGI for Hulk but this one it was done with motion capture and I really don't know why they didn't do it in the first place. He plays the Hulk brilliantly. The Hulk has the best comic timing out of everyone. The cinema was in an uproar with Hulk's comedy timing. It was brilliant. The way Ruffalo pulls it off is remarkable. His portrayal as Bruce Banner is brilliant also. He captures the calmness of Banner very quiet but also sneaky and sly sort of as a contrast to what Hulk is. Hulk has finally got a film which he can be proud of and this one finally shows the true power of Hulk himself.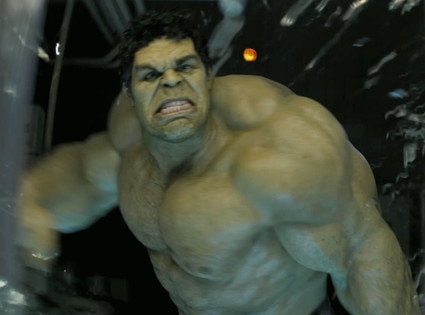 Chris Hemsworth (Thor): I thought Chris pulled off Thor very well in the first film. It was by far my favourite of the lead ups to The Avengers. He keeps the character perfect again in this film. Showing that he is a god and just what brute strength he has which really shows when he fights Hulk. Thor returns to earth to capture Loki and take him home as a prisoner and that's how he joins the Avengers. He shows his power to Capt. America and Iron Man to try and show he is the top dog being a god but is really turned down by the leadership of Capt. America. Once again Chris Hemsworth pulls off a fantastic performance as Thor.
Scarlett Johansson (Natasha Romanoff/Black Widow): In Iron Man 2 I thought she was awful. I have no idea why. She redeems herself here. Keeping her spy style of work even in the massive battle scenes and she does it in style. What I really liked was she was the only one who had a real fear of Bruce Banner aka Hulk and she pulls that off superbly.
Jeremy Renner (Clint Barton/Hawkeye): We don't really see much of Hawkeye (I won't reveal why) but I like the way he was played. Very serious about his job and very calm. Just like a bowsman would be. I would of liked to see more but I'm hoping there will be a film about him.
Tom Hiddleston (Loki): There's not a lot I can say here except for awesome. What a role to perform and do it so well. He just puts over the insanity of Loki so well and sometimes it is frightening. Absolutely brilliant casting by the Marvel team just the perfect guy to play the role of Loki.
Samuel L. Jackson (Nick Fury): Last but not least Nick Fury. The man that has been pulling these heroes together. YES he does have more than 20 minutes on screen in this film and he brings his Samuel L. Jackson bad ass style into it which just makes Nick Fury more personal and so well played. Hats off to Samuel L. Jackson for playing that role in so many films.
VERDICT
This film is brilliant, end of. The special effects, the acting, the music is to perfection. The only problem I have is there isn't much of an explanation of why Loki wants to conquer Earth but that's easily looked over. Other than that a perfect salute to the Marvel comics with this fantastic view of the Avengers.
9/10
rawse likes this
liamrfowler posted this